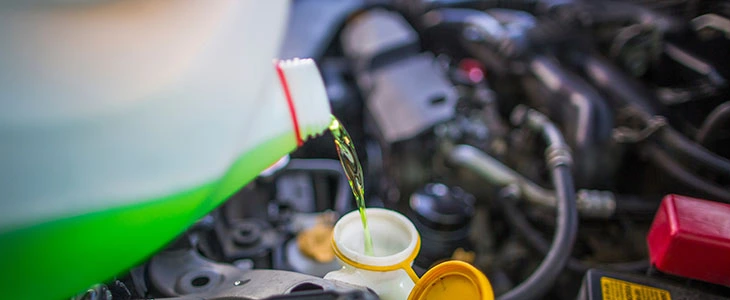 Why It Is Important to Have Oil and Fluid Capacity
Information When Servicing Customers
Technicians hear it all the time "work smarter, not harder".  Easier said than done when you have jobs backed up and eager customers waiting to get back on the road.  Achieving the "work smarter" goal is not easy but with seemingly small incremental steps it is possible to improve workflows and get things done faster while keeping quality levels high.
One such step technicians are starting to see in their online filter catalogs is the presence of oil and fluid capacity information included next to the appropriate filter for the vehicle application being looked up.  Having this information can help technicians verify information on one screen – saving a trip away from the vehicle in service to another computer screen across the garage.  Never mind having to grab the vehicle's manual or look up the information in a printed guide.  While saving a few steps one time might sound trivial – add up all the steps saved throughout a day or a week and getting on the "work smarter" path is more obtainable than you might think.
Even more than saving steps and time, having oil and fluid capacity data in the palm of the technician's hand can drive higher quality and more accurate service for customers.  With an ever-growing assortment of motor oils in garage, it is critical to getting the correct product in the car being serviced.  Having this information in a handy and convenient place makes selecting the right oil the first time a breeze, giving the technician and customer confidence in the job being done.
You might think that getting this information from your filter supplier is standard practice – its not.  In a crowded filter market, only a few premium innovative companies are providing oil and fluid capacity data to help technicians run their garages better. There are a lot of salesmen out there peddling cheaper products.  Very few suppliers are bringing real value to customers beyond price.  Be sure to check if your filter supplier has made this important information a key piece of their offering.  If they haven't, it might be time to look around.
Recently, ECOGARD, an innovative supplier of filtration products, made the commitment to their customers to include oil and fluid capacity information in their online catalog and mobile app.  They are joining other Premium Guard brands in delivering additional value to customers in an effort to help customers grow their businesses.  Professional installers can check out this new feature online at www.ecogard.com/catalog or in the App Store or in Google Play
Having a filter supplier that commits to helping installers better run their businesses is important.  Supplying key information such as oil and fluid capacity data is just a small but important tool in the quest to "work smarter" in the garage.
Tags: air filter lookup, Android, App Store, cabin air filter lookup, eCatalog, ECOGARD, filter catalog, fuel filter lookup, Google Play, iOS, oil filter lookup, parts catalog, parts lookup, Premium Guard, push-to-talk, transmission filter lookup, VIN search, voice search, wiper blade lookup
Categories:
Aftermarket Insights