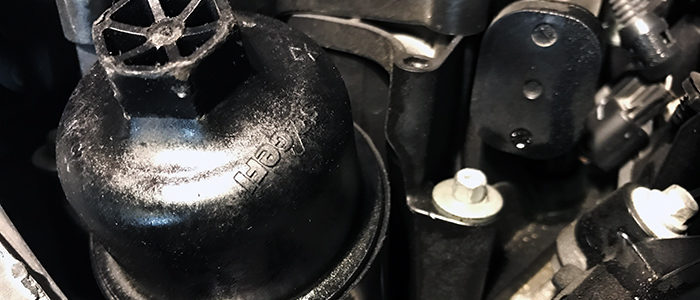 Why the Resurgence of Cartridge Oil Filters? ECOGARD Explains
Cartridge oil filters are a unique type of automotive oil filter sometimes referred to as the "eco oil filter". Unlike the more common conventional spin-on type of filters, which feature a steel outer canister, cartridge oil filters are made entirely of cellulose filter media and plastic. Cartridge oil filters have actually been around for a long time but had taken a back-seat to spin-ons from the mid-1960s to about the mid-1990s for the sake of convenience and ease-of-use. Over the last two decades, cartridge oil filters have made a resurgence – recapturing a 20% chunk of the automotive aftermarket. There are a few reasons for the shift, which I'd like to explain.
The state of California alone outputs nearly 70 million used automotive filters per year. According to this article from National Oil and Lube News, the California Department of Resources, Recycling, and Recovery reports that if every conventional spin-on oil filter sold annually in California was recycled, this would generate enough steel to build three sports stadiums. So, considering the sheer volume of vehicles on the road it's not hard to understand that the ability to dispose of oil filters can have significant implications for the environment. Since the construction of cartridge oil filters doesn't include any metal, they can be incinerated instead of being tossed in a landfill.
In many states, the recycling rate of used oil filters has increased dramatically because used oil and filters are considered hazardous waste by tough environmental regulations. Cartridge oil filters make it easier for professional installers and DIYers alike to abide by these regulations.
Technological Advancements
Vehicles produced by OEMs between the 1920s and 1950s featured cartridge oil filters, but they didn't yet have the ability to utilize the advanced materials and technology we see today. Extremely efficient cellulose media for removing smaller contaminants while maintaining high flow rates have become the norm. Anti-drain back valves and other advancements such as centrifuge or thermal action bypass systems just didn't exist back then. It's because of these advancements that cartridge oil filters are able to achieve the high flow rates required by today's modern engine designs.
Cartridge oil filters are here to stay and their use in modern vehicles is going to increase at a rapid pace as legislators put more emphasis on environmental protection. These filters require different tools and training for installers. It's in the best interest of professionals and DIYers alike to get familiar with the new requirements and some of the risks involved with replacement of these filters. Making our customer's lives easier is our life's work, so we've created this video demonstrating the best practices for cartridge filter installation. Make sure to check it out!
ECOGARD® has been a major manufacturer and distributor of cartridge oil filters to all segments of the automotive aftermarket since the early 1990s and we care about the effect our products have on the environment. In fact, the brand name ECOGARD comes from our expertise in cartridge oil filters, which we trademarked back in 2003.
Check out the eleven best-selling cartridge filters in our Synthetic+ filter line. It's the perfect match for synthetic oil changes.