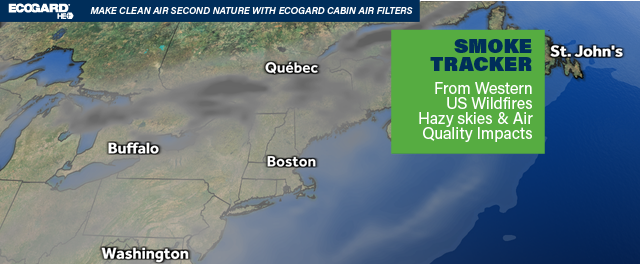 PSA: Summer of Smog Fueled by US and Canadian Wildfires – Health Protection in the Car Starts with a Fresh Cabin Air Filter
Every breath you take in the car this summer without the protection of a clean, high-quality cabin air filter, puts your respiratory health in jeopardy.
It's been a strange Summer, weather-wise, here in the northeastern US. Everything began beautifully in June with comfortable temperatures and plenty of sunshine, but quickly devolved into an uncharacteristically cool and rainy July. The rain has finally given way to some sunshine and the heat we're accustomed to, and many would love to be outside enjoying what's left of the summer. Unfortunately, there's a big problem in the air and on the horizon – literally.
Hazy, Smog Choked Skies – July in New England??!
While driving down the freeway on multiple occasions over the last couple of weeks, I noticed that instead of the vibrant blue atmosphere that I should be seeing this time of year in New England, everything on the horizon was blanketed in a thick haze. Mountains, hills, bridges, you name it – everything on the horizon seems to be muted by a thick layer of smog. A strange sight for this time of year. It wasn't long before I began to see news media stories from other parts of the region describing the negative impact that the western US and Canadian wildfires of 2021 are having on air quality for everyone from the mid-west to the northeastern US. Thick plumes of smoke whisked away from Manitoba by easterly winds and the Jetstream have many people in the northeastern states of New Hampshire and Vermont complaining of breathing problems and burning eyes.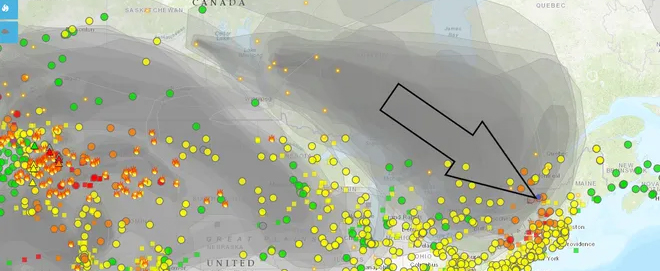 High-Quality Cabin Air Filters Help Protect Vehicle Occupants from the Poor Air Quality Outside
Poor air quality of this magnitude is a big problem for the elderly, young children, and anyone immunocompromised or with pre-existing respiratory conditions. While officials do expect regional air quality to improve, these events, which seem to be happening with more and more frequency, highlight the need to take cabin air quality more seriously. It goes without question that high-quality cabin air filtration is more important than ever.
Which Cabin Air Filter Offers the Strongest Protection Against Poor Air Quality?
The short answer to this question is, all of them if they meet OE specifications but like anything else, the issue is a little more complex. There are a few different varieties of cabin air filter that are common in the aftermarket. We have plain white filters constructed with an electrostatic media, others that feature an additional carbon-infused media layer, and there are a few that feature electrostatic media treated with odor neutralizing substances such as baking soda. At a minimum all will satisfactorily filter airborne contaminants from the outside air before it gets into the cabin and, as a bonus, others will go a step further and neutralize foul odors in the process.
This isn't an educational post on cabin air filters and 
how they do what they do
 or 
how they're constructed
, so we won't get into all that right now. This is a public service announcement because of the extenuating circumstances that the western wildfires have created and the impact that the resulting air pollution could have on vulnerable drivers and their passengers. The best cabin air filter choice depends on factors like terrain, environment, and climate. It's critical to make sure that the cabin air filter is changed with regularity. The frequency of replacement depends largely on where the vehicle is driven, but a good rule of thumb is to replace the cabin air filter once or twice a year. Up here in New England we recommend changing with the Fall and Spring seasons due to excessive pollen and debris that come from vegetation when the seasons change.
Make clean air second nature with a cabin air filter from ECOGARD.
Tags: Air Pollution, Air Quality, Cabin Air, Canada, Fresh Air, Haze, Manitoba, New England, Pollution, Smog, Smoke, Summer, Western US, Wildfires
Categories:
Cabin Air Filters
,
Filters