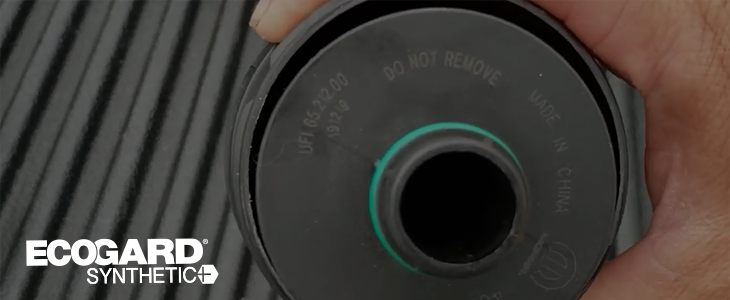 Overview: The All-New Mopar 68507598AA Cartridge Oil Filter for the Fiat-Chrysler 3rd Generation 3.0L EcoDiesel Engine
At first glance, the all-new Mopar 68507598AA cartridge oil filter looks like most other cartridge oil filters used in passenger or light-duty vehicles. There's a filter element, a couple of O-rings and a normal looking plastic oil filter housing cap. That's pretty much where the similarities with other cartridge filters end. So, what's different? …and why?
Mopar 68507598AA Cartridge Oil Filter Is Expensive
The first thing most people are going to notice about this filter is the cost. Most cartridge oil filters can be had for as little as a few bucks up to around $15-ish depending on the application. Quickly look around the internet and you'll find the Mopar 68507598AA available through most e-retailers for anywhere between $49 and $65 on sale. Although no vendor is selling it for this much now, initial MSRP was $90! Factor in the required 8 quarts of full synthetic oil and you realize that oil changes for the 2020 Ram 1500 and Jeep Wrangler vehicles with the 3rd generation EcoDiesel engines will cost significantly more than most drivers are accustomed to. Those looking for a $19.99 oil change need not apply.
The Mopar 68507598AA Cartridge Oil Filter is Built Differently
Includes the Oil Filter Housing Cap
When I open the box for a traditional cartridge oil filter, I usually expect to find a filter element, at least a couple of loose O-rings floating around and possibly a drain plug washer. You get all of those components with the Mopar 68507598AA… and more. Unlike any other cartridge filter on the market Mopar has decided to provide a brand-new oil filter housing cap with every filter.
The Whole Kit Is Pre-Assembled
Not only does Mopar provide a new oil filter housing cap for every oil change, but they also provide everything in a pre-assembled package. The filter element is already installed into the cap and it can't be removed. In addition, both O-rings are already placed in the correct places on the cap. Fiat-Chrysler hasn't made any comment on what their reasoning is for these significant and unusual changes with this cartridge filter, and we can only speculate. One line of thought is that the new filter, if offered in pieces, would be too similar and could be mistaken for the previous generation.
The Pre-Assembled Approach Should Help to Mitigate Common Cartridge Oil Filter Problems
Anyone familiar with cartridge oil filters and cartridge oil filter installation knows that this type of oil filter generally suffers more frequent problems as a result of improper installation. In fact, we've 
written about this at length
 and even developed 
instructional training videos
 to help mitigate installation failures.
The Necessary O-rings Are Already in Place
One of the most common mistakes that installers (both professional and DIY) make when installing cartridge oil filters, is to put the supplied O-ring into the wrong groove on the cap. When this happens, the cap can't be tightened properly, and a good seal is not made. When the engine is started, and oil pressure rises a significant amount of oil can leak out through the cap. This of course will eventually lead to critical oil loss and a significant drop in oil pressure. I've personally seen cases where people have been left with only 1 quart of oil when they noticed the problem – and did not get a low oil pressure warning. The problem was only noticed when they popped the hood and saw an engine bay coated in motor oil. By shipping these filters with the O-rings already installed, there is much less chance that these types of mistakes will happen. As we all know, manufacturers do make mistakes, so this is not to say that the installer shouldn't always check to make sure the O-rings are there and in the correct place before installing – definitely make sure to check!
The Filter Element is Pre-Installed into The Cap – And Can't Be Removed!
Normally the installer would have to pop the filter element into the cap, make sure it's seated properly and then install the cap/filter combo into the oil filter housing. That's not the case with the Mopar 68507598AA oil filter because the filter element is already in place and cannot be removed. Any attempt to do so could damage the filter. As of the time of this writing, I haven't been able to find any comment from Fiat-Chrysler as to why they've taken this unusual approach with the filter. We can only guess that it's another attempt to minimize claims or comebacks due to improper installation, but that's only speculation.
A New Cap for Every Oil Change
The fact that the filter element comes pre-installed into the cap means of course, that a new cap is provided for every single oil change. For the majority of cartridge oil filters on the market, the original OEM cap is reused for the life of the vehicle or however long the cap happens to last, so again, we wonder why Fiat-Chrysler has done this. We're not exactly sure, but what we do know is that installers have a tendency to overtighten oil filter housing caps, which can sometimes result in cracks and subsequent oil leakage when under pressure. They are only plastic after all. This measure, however expensive for the consumer, would help to mitigate such a problem – but again, this is just speculation.
ECOGARD Has A Cost-Effective Alternative to the Mopar 68507598AA Available NOW
ECOGARD is well-known as the aftermarket leader in first-to-market product availability, and we've done it again with our solution for the Mopar 68507598AA. We recently introduced the all-new S11880 Synthetic+ Cartridge Oil Filter for the 2020 Ram 1500 and Jeep Wrangler 3.0L EcoDiesel applications. With the S11880, customers will get the same gold-standard quality & market-leading value that ECOGARD has delivered for the last decade. The S11880 is a premium-quality, direct replacement for the Mopar 68507598AA and is configured in the same way – Meaning that a brand-new filter cap is included with every filter, the filter element is already in place and the O-rings are pre-installed just as they are with the Mopar filter. ECOGARD customers will enjoy all of the same features with the S11880 at a price point that the OEM and aftermarket competition just can't match.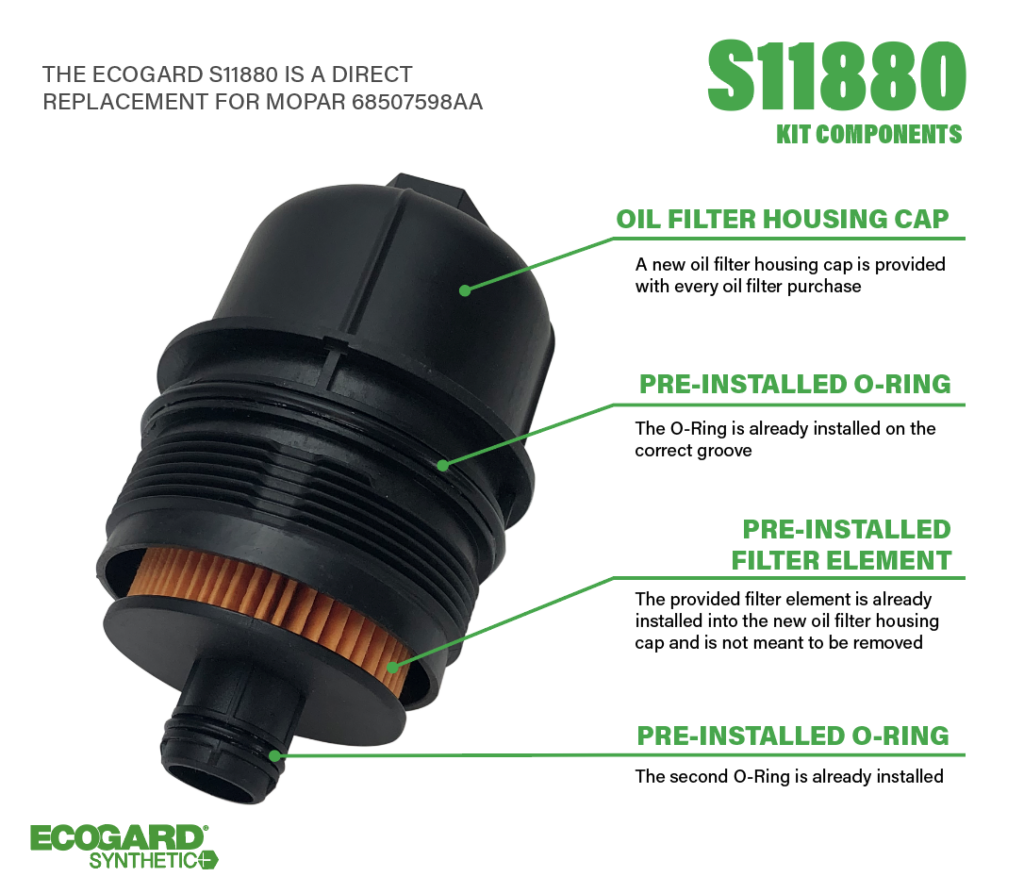 Tags: 1500, 3.0L EcoDiesel, 68507598AA, Amazon, Diesel, EcoDiesel, Jeep, Mopar, RAM, S+, S11880, Synthetic, Trucks, Wrangler
Categories:
Aftermarket Insights
,
Cartridge Oil Filters
,
Filters
,
Oil Filters
,
Synthetic Oil Filters