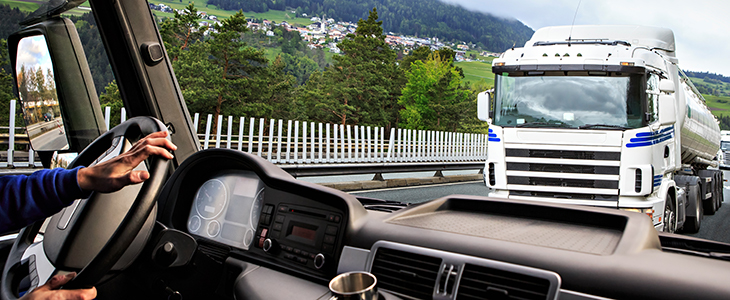 Heavy-Duty Cabin Air Filters Maximize Time on the Road
A heavy-duty cabin air filter is the only barrier between the dirty outside air and the occupants of a truck's cabin. No one wants to breathe dirty, smelly, and potentially harmful air. However, most long-distance drivers don't realize just how bad the air quality in the cabin is due to cabin air filter neglect.  For long distance drivers, cabin air filters need to be changed 2-3 times a year depending on driving conditions. Unfortunately, a huge percentage of fleet operators and distributors just aren't doing it and the result is poor cabin air quality which puts drivers at risk for serious health issues and an increase in respiratory allergies. Regularly changing the cabin air filter will minimize the risk of allergies or illness and maximize time on the road.
Keep Drivers On the Road Longer
Whether you run a small freight business or manage a cross-national trucking fleet, there's nothing more important than the health and safety of your drivers because your drivers are the backbone of your business. If you want to be successful, keeping your drivers both happy and healthy should be a top priority. And one way to do that? Routinely changing their cabin air filter with a heavy-duty cabin air filter.
A typical long-distance driver in the United States can drive anywhere from 40-70 hours a week. That's a lot of driving — for those hours to be as comfortable and safe as possible, the cabin air filter must be changed often. When the cabin air filter is not routinely replaced, contaminants can accumulate in the cabin and become three-to-five times more concentrated than they are in the outside air. Another thing to consider is that an old and worn cabin filter is a breeding ground for mold, mildew and other harmful contaminants which can lead to an increase in allergy symptoms and even cause serious respiratory issues. Usually, these contaminants generate foul odors that no one wants to experience. Thankfully the filter industry has come up with a fix for these odors.
Odor Neutralizing Cabin Air Filters
Some cabin air filters are made of an electrostatic particulate media that does nothing to deal with odors. Other types are coated in a scented chemical that's used to mask bad odors. The most common odor neutralizing heavy-duty cabin air filters utilize a carbon media layer that neutralizes odors naturally instead of masking them with chemicals. It does this by using a bed of activated carbon to trap contaminants and impurities from the airflow.
Did you know that most over-the-road trucks have 2 heavy-duty cabin air filters?
Many trucks contain two heavy-duty cabin air filters – one that filters air entering through the cabin and one that filters air entering the living space. Seeing as a typical truck driver spends a majority of their time in these two places, it's imperative that clean air is being circulated. Studies have shown that poor air quality is linked to a decrease in driver alertness putting both the driver and your company at risk. Prolonged hours on the road can also create an atmosphere containing harmful diesel fumes. If the interior air flow is not filtered properly, this can lead to chronic lung problems for the driver.
If the truck allows for two cabin air filters, we recommend changing both at the same time. Doing so will lessen the burden of physically replacing it and helps to maintain a consistent airflow throughout the entire vehicle.
Happy, Healthy Drivers are Good for Business
There is no doubt that healthy, safe drivers are the backbone of your business. Keeping them healthy and happy will boost your bottom line by maximizing time on the road – which will subsequently keep your customers satisfied.
Tags: Active Carbon, Cabin Air, Electrostatic, fleet operator, heavy duty, HEPA, HVAC, Installers, Maintenance, Particulate, Spring, Tech Tips, trucking
Categories:
Cabin Air Filters