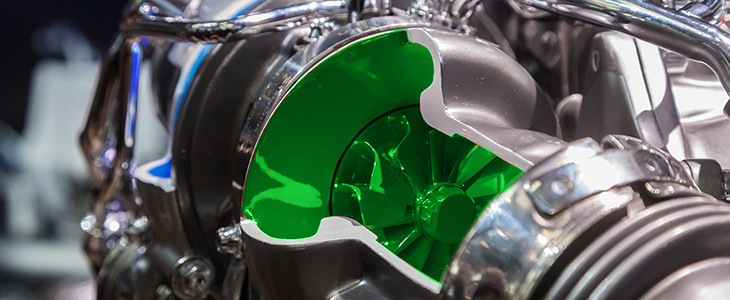 Gas Turbochargers are Taking Over – What Does This Mean for the DIFM Service Market?
These days, a lot of passenger vehicles and many fairly large crossovers are coming to market with tiny 1.4 to 2.0-liter gas engines paired with turbochargers. I started to notice it a few years ago but didn't really grasp the depth of this transition until I began car shopping recently. Turbocharged vehicles are taking over and the trend, driven by green legislation, will only continue upward.
According to a recently published report by Wards Auto, a whopping 27.6% of light cars rolled off the assembly line with a turbo in 2017. That's a 3% increase over the record set the prior year and more than 4 times as many vehicles prior to the 2011 model year.
So, why is this development so significant to anyone working in the DIFM service market? Well, because according to IHS Automotive, by 2021, 38% of all new cars sold in the United States will come with turbocharged engines. That's a significant chunk of your future business.
And, Because Turbocharged Engines Require Synthetic Lubricants for Optimal Performance and Longevity
It all comes down to extreme heat and its effect on motor oil. A turbocharger is powered by scorching exhaust gas that blows directly through the turbocharger, causing it to run extremely hot. At this point, the entire turbocharger assembly and the engine oil are exposed to punishing heat where the oil can reach temps as high as 400 degrees Fahrenheit! That's almost twice the average heat of oil running through a naturally aspirated engine.
A Synthetic Lubricant and Synthetic Filter Combo is the Best Protection for Modern Gas Engines with Turbochargers
Conventional motor oil breaks down much faster than synthetic lubricants. And, what causes conventional oil to break down? You guessed it! H.E.A.T. So it's not hard to understand why conventional motor oil is not suitable for today's turbocharged engines. Full synthetic lubricants, on the other hand, offer almost twice as much high-temperature protection for engines and turbochargers. These high-quality lubricants are specially formulated to endure extreme conditions for longer periods of time, with much better resistance to deposit formation in turbochargers.
Synthetic Oil is Only Half the Battle – Don't Forget the Synthetic Oil Filter
When using full synthetic oil in today's engines, it's incredibly important to consider the filter that you're pairing it with. With the higher quality lubricants, drivers can expect to go much longer distances between oil changes – usually between 10 and 15 thousand miles. In order to reap the benefits of the extended drain interval, you'll need an oil filter engineered to last that long. Synthetic oil filters differ from their conventional counterparts in a couple of important ways. First, a synthetic oil filter utilizes a synthetic, or synthetic blend media which enables it to capture up to twice as many particles as a conventional filter. Second, a spin-on synthetic oil filter uses a silicone anti-drain back valve as opposed to the nitrile versions used in conventional filters. This enhanced material allows the anti-drain back valve to maintain its elasticity under punishing heat for the entire life of the filter. Of course, the ability to withstand extremely high temperatures is especially important when the filter is used on a turbocharged engine.
It's important to note that with a turbocharged engine, customers might require more frequent oil changes depending on their driving style– even with synthetic oil. This is due to the extreme heat that we discussed earlier. If a driver is making frequent use of the vehicle's turbo, even the synthetic oil is going to break down at an accelerated pace.
Considering the volume of vehicles that will be powered by turbocharged gas engines in the very near future, it's important to ensure that you have the synthetic filter inventory you'll need to capture this business. ECOGARD® has the perfect solution in our all-new Synthetic+ 10,000-mile synthetic oil filter. With 92 SKUs and original equipment sizing, we have the right synthetic oil
filter for every application.