Chrysler's Problem With the Pentastar V6 Oil Filter Housing & Cooler Assembly and What It Means for Oil Filter Installers
The Chrysler Pentastar V6 oil filter housing and cooler assembly for 3.2L and 3.6L engines can become warped, brittle and crack over time with constant exposure to engine bay heat. This serious flaw in the design of the Pentastar oil filter housing and cooler assembly often result in severe oil and coolant leaks and can have catastrophic consequences.
Affected Pentastar engines:
Chrysler 300
Chrysler Pacifica
Chrysler Voyager
Chrysler Town and Country
Dodge Challenger
Dodge Charger
Dodge Durango
Jeep Gladiator
Jeep Grand Cherokee
Jeep Wrangler
Ram 1500
Ram 1500 Classic
Ram Promaster
Over the last few years there has been some speculation that Chrysler cut a few corners with the Pentastar V6 and the original equipment parts for it. The most common example is the plastic oil filter housing & cooler assembly. Like anything else that's made of plastic, the housing and gaskets for oil and coolant line connections get very hard and brittle while exposed to extreme heat over time – leading to cracks and warping which eventually manifest as severe oil and coolant leaks. The number of complaints regarding the Pentastar V6 oil filter housing and cooler assembly is staggering. See them here, at carcomplaints.com. There have been so many complaints – with the OE replacements even, that Chrysler has discontinued the manufacturing of the Pentastar oil filter housing and cooler assembly. Even more surprising is that Chrysler has known about this problem for a long time and has never issued a recall.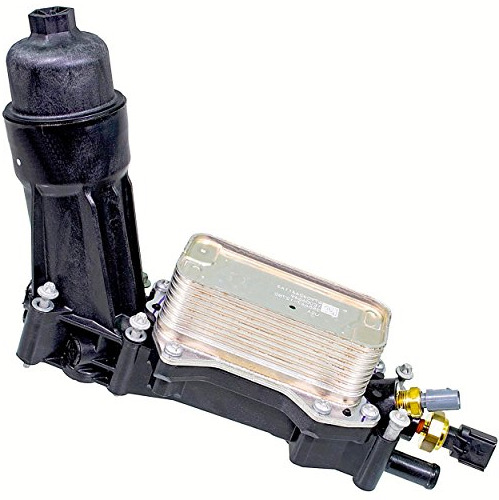 What Does the Poor Design of the Pentastar V6 Oil Filter Housing and Cooler Mean for Installers?
As you'll see in the examples ahead, professional installers are often blamed for problems related to the Pentastar V6 oil filter and cooler housing assembly's poor design. If an installer's customer happens to drive a Pentastar V6 equipped vehicle and the housing becomes warped or cracked in anyway, a significant oil and/or coolant leak will occur, and the consequences could be catastrophic. When said customer experiences the problem and has the vehicle looked at by dealership service, the dealer usually attempts to redirect blame to the installer by implying that the oil filter housing cap was over torqued, causing the housing to crack, and leak. These excuses seem implausible, as the problems often happen many months after the oil change has taken place. As an aftermarket filter supplier, we've experienced firsthand issues with this housing and our own installer customers. At first, we thought the problems might be a case of installers simply putting the cap O-ring in the wrong groove. As unlikely as it sounds for professionals to make this error, we went so far as to create an instructional cartridge filter oil change video with a 2016 Jeep Grand Cherokee 3.6L Pentastar as the subject vehicle. Now there is indisputable evidence that the real problem is the plastic design of the oil filter housing and cooler assembly.
These are just a few examples of Pentastar V6 complaints from around the web::

"Hi all, I've been surfing through the net define something about this oil housing filter that leaks. I have a 2014 town and country. I too experienced droppage a boil all of my driveway. I brought the car into Garden City Chrysler and they told me that someone tighten the oil filter Too tightly and a cracked therefore having this oil drip all of my engine and driveway. Since they did not do the oil change, it is not their responsibility and is not covered under warranty. I do not drive his car often so my old change was done five months ago. This just started happening a few days ago. The dealer told me that it's going to cost $800 to replace the oil filter housing. I contacted Chrysler and they just gave me the runaround and told me that there's nothing they can do after 45 minutes on the phone but they did give me a complaint number for me to keep for my files. I contacted another dealership they told me the party is going to cost me $125 and is extremely simple to replace it should take me no more than an hour so I contacted my mechanic and brought the car over to him along with the $125 part he then charged me $65 to put it on. Unfortunately I had to go somewhere else to go get my oil changed because Garden City Chrysler kept on telling me I'm sorry they don't have the time they're very busy I would have to leave the car for about a week. So that's why I went to Thursday you to a local place to have my own oil changed. I'm so glad this is a leased vehicle and I have one more year to get rid of this POS! I just want to thank Chrysler and Garden City Jeep Chrysler for the wonderful service that they would never provide me.
This will be the last Chrysler vehicle I lease." – Long Island Larry

"I have had this issue and did some research as to what it is and t it was under warranty with the dealership. Set up an appointment for last Thursday dropped my truck off and waited for them to call me from the dealership. When I was called back I was told that it was $589. Whoa wait who does something without quoting and what about the warranty? I was told that the cooler housing was cracked by someone changing the oil. That because of that they weren't honoring the warranty because t was cracked voided it. I wasn't having that and called Chrysler. The first person I spoke with her sided with the dealership and we got into it ending when she hung up on me. I called back got someone else and they verified it was under warranty from any angle you look at it it was under warranty. He thanked me for being a long time Chrysler customer 20 years full of grand cherokees a Cherokee a commander and now a Ram 1500 combined well over a million miles. He escalated the issue and put in a ticket. Waiting for them to review it hopefully hear from them Monday. If I have to pay for this I will never buy Chrysler again. Either way I will never purchase a nut or bolt from this dealership. Has anybody else had this issue concerning warranty?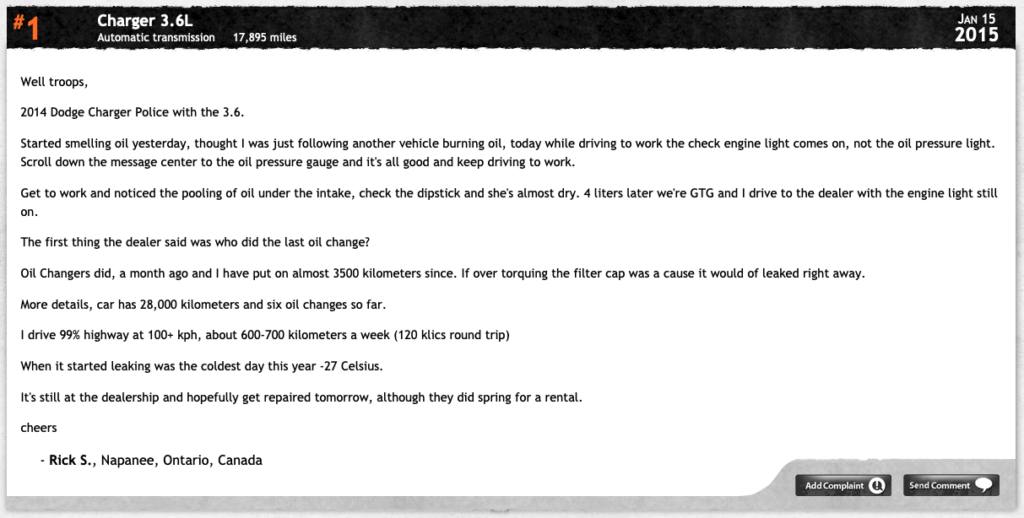 "Well troops,
2014 Dodge Charger Police with the 3.6.
Started smelling oil yesterday, thought I was just following another vehicle burning oil, today while driving to work the check engine light comes on, not the oil pressure light. Scroll down the message center to the oil pressure gauge and it's all good and keep driving to work.
Get to work and noticed the pooling of oil under the intake, check the dipstick and she's almost dry. 4 liters later we're GTG and I drive to the dealer with the engine light still on.
The first thing the dealer said was who did the last oil change?
Oil Changers did, a month ago and I have put on almost 3500 kilometers since. If over torquing the filter cap was a cause it would of leaked right away.
More details, car has 28,000 kilometers and six oil changes so far.
I drive 99% highway at 100+ kph, about 600-700 kilometers a week (120 klics round trip)
When it started leaking was the coldest day this year -27 Celsius.
It's still at the dealership and hopefully get repaired tomorrow, although they did spring for a rental.
cheers
– Rick S., Napanee, Ontario, Canada"
The Pentastar V6 oil filter housing and cooler assembly flaws are frustrating and expensive for owners of these vehicles as well as the professional installers that service them. It's an unfortunate situation because Chrysler could've easily opted to make the housing out of some type of metal instead of plastic and, had their engineers done that, these issues would not exist.
What Can Installers Do to Avoid Problems with Pentastar V6 Oil Filter Installation?
Professional installers should proceed with the usual due diligence when performing a Pentastar V6 oil change. This should involve inspection of the housing for any warping, cracks, or other defects. If there is an existing oil or coolant leak, it should be obvious when inspecting the back of the engine as this is where the leaks tend to be seen. Many times the leak may appear to be a rear main seal leak, but is not. Installers should be cognizant of this possibility, especially if the vehicle has low mileage and is already leaking oil. If possible, have a conversation with the customer about the potential problems they could experience with the Pentastar oil filter housing and cooler assembly especially if the vehicle has higher mileage. If unknown, the conversation will put the issue on the customer's radar – They won't be completely surprised if something does happen and will be less likely to blame your installation on Chrysler's problem oil filter housing.
A Viable Aftermarket Solution
Dorman has just delivered an aftermarket oil filter housing and cooler assembly that Pentastar owners and professional installers have been waiting for. The Dorman oil filter housing and cooler assembly is made of aluminum, so it won't experience the same negative effects of excessive heat that the original plastic housing suffers from. Being made of aluminum means that there is little risk of cracking when the cap is tightened after every oil change, which bodes well for installers working on these vehicles