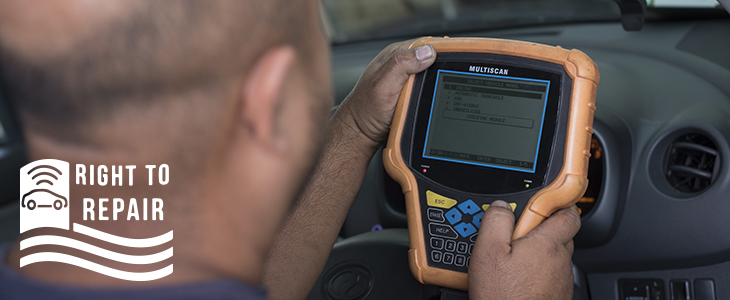 Big Auto Manufacturers are Exploiting a Loophole in the Original Automotive Right to Repair Law
History – What is "Right to Repair"?
The Motor Vehicle Owner's Right to Repair Act, shortened to Right to Repair, is the common name of several similar bills that were proposed in the US Congress at the federal level in 2001 and several state legislatures in the years to follow. The proposal required that automakers enable the transmission of the same key diagnostic data to independent repair shops as they would for their own authorized dealership repair services. The intention of this initiative was to end the unfair monopoly of automakers retaining control of diagnostic information in a way that would force independent shops to turn customers away. To allow this practice to continue would be devastating to the installer business while infringing upon the rights of consumers, who should be able to repair their vehicles anywhere they please.
Massachusetts Right to Repair Coalition Re-Mobilized
It wasn't until 2013 when Massachusetts passed its own Right to Repair bill, that any provisions of the federal bill were adopted. The law, pushed by the Massachusetts Right to Repair Coalition, mandates that automotive manufacturers must make OBDII vehicle diagnostic information universally available to aftermarket installers and dealership service providers alike. The passing of the law was considered a major win for installers and consumers because it ensures that automotive manufacturers can't tell consumers who can and cannot repair their vehicles. Now, it appears that that law they fought so hard to pass is already obsolete. The Massachusetts Right to Repair Coalition has re-mobilized to prevent the continued exploitation of a loophole that is allowing Big Auto Manufacturers to freeze out aftermarket installers once again.
For many years, vehicles have been designed to work with an array of built-in sensors and an onboard computer, sometimes called an electronic control unit (ECU) or electronic control module (ECM). This network of sensors sends data back to the computer to help control the vehicle's various systems, such as brakes, fuel delivery and regulation of emissions. Of course, all of this data is vital to an installer's ability to diagnose and repair vehicles in the aftermarket. The 
2013 Right to Repair law
 enshrines aftermarket installer's access to this data through the standardized OBDII (on-board diagnostics II) port, with a scan tool that plugs into the port. The problem now is that computer technology has evolved since the law was passed and automotive manufacturers suddenly have the ability to wirelessly transmit diagnostic and telematics data back to themselves – once again cutting out the aftermarket installer. Now there is a dispute over exactly who owns that data and who should have access to it.
Will Automotive Right to Repair Bill H.3757 be Updated?
The obsolete Automotive Right to Repair bill H.3757 should be updated, but the public's help is needed. The Massachusetts Right to Repair Coalition, the group responsible for getting the 2013 law passed, is trying to close the new wireless loophole that Big Auto wants to continue to exploit. The next critical step in the process is to get a hearing on Beacon Hill, but intense lobbying on the part of Big Auto manufacturers has prevented that hearing from taking place. The updated bill H.293, along with a petition for a hearing, has been sent to the Committee on Consumer Protection and Professional Licensure, but more support is needed for a hearing to be scheduled.
Wondering how you can help? Click here to let your State Senator know that you support an update to the outdated Automotive Right to Repair law. Because regardless of what automotive manufacturers do with the diagnostic data they wirelessly collect; consumers deserve access to their car's diagnostic data so they can take it to any repair shop of their choosing. We feel that the best way to enact change is to engage and educate the public on the wireless data issue. Only then will the aftermarket have the support required to be heard on Beacon Hill.